aocole
2022-09-25T13:59:40-07:00
2022. As part of this collaborative project with Totally Legit, I created the lights and electronics for That-a-way, a large-scale Mutant Vehicle for Burning Man 2022.
aocole
2023-01-21T14:44:22-08:00
2021. The Simpsons Colonoscopy Party is an interactive electromechanical experience built by me and Jeffrey Larson. It is a one-of-a-kind machine in a stand-up arcade game format. The player acts as doctor giving Homer Simpson a colonoscopy. It's better to think of it more as a ride than a game. Like a real colonoscopy, it's [...]
aocole
2022-09-23T23:28:36-07:00
2022, 3'x2'x2', wood, metal, mirror, servo, LEDs A kinetic light sculpture. Mirrored hexagons replicate patterns in undulating animation. Exhibited at Chain Gang group art show at Passable in 2022.
aocole
2022-09-25T13:48:31-07:00
2021. Aluminum, electronics. Exhibited at Chandelier Dreams, Passable, 2021 and at Lusio 2021.
aocole
2022-09-25T13:17:14-07:00
As part of Totally Legit's Mask Maze at Covid House of Horrors, I created this motion-activated air blaster effect to "cough" on participants as they navigated the maze. This involved automating the firing of an off-the-shelf air vortex cannon toy. This device was painted matte black and hidden from the audience. It was activated by [...]
aocole
2022-09-23T23:20:21-07:00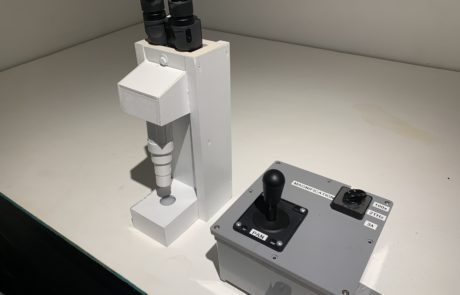 2019, 8'x4'x4', wood, optics, motors, LEDs, sculpting clay, miscellaneous found objects  Created with Jeffrey Larson. The piece appears at first as a microscope with controls set on a large table. Looking through the eyepiece the viewer realizes there is much more than meets the eye. Hidden inside the table are multiple model worlds which the [...]
aocole
2022-09-23T23:28:15-07:00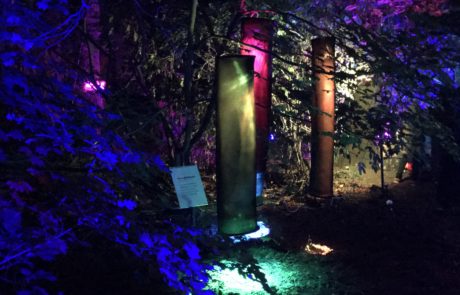 2017. A sculptural installation featuring light and interactive sound elements. Exhibited at Electric Sky 2017. Created in collaboration with Jeffrey Larson. The interactive sound elements were created by taking ultrasonic positional readings of people passing nearby and feeding in to a live MIDI synthesis program created for the installation.
aocole
2020-01-08T19:01:50-08:00
Skill Shot is a pinball zine based in Seattle, publishing quarterly with a circulation of about 2500 printed issues. Skill Shot's web presence includes a WordPress blog with multiple custom features: Map- and list-based displays of pinball machines on location in Seattle, loaded live from a custom REST API service written in Rails and hosted [...]
aocole
2022-09-25T14:08:13-07:00
2013. The Bird Box for Stand With Our Checkers, designed and launched in 48 hours, was a web-connected interactive hardware device to stimulate and react to discussion on Twitter. Built to withstand exposure to the elements and public crowds, this device provided live feedback to a protest crowd in Westlake Center in downtown Seattle.